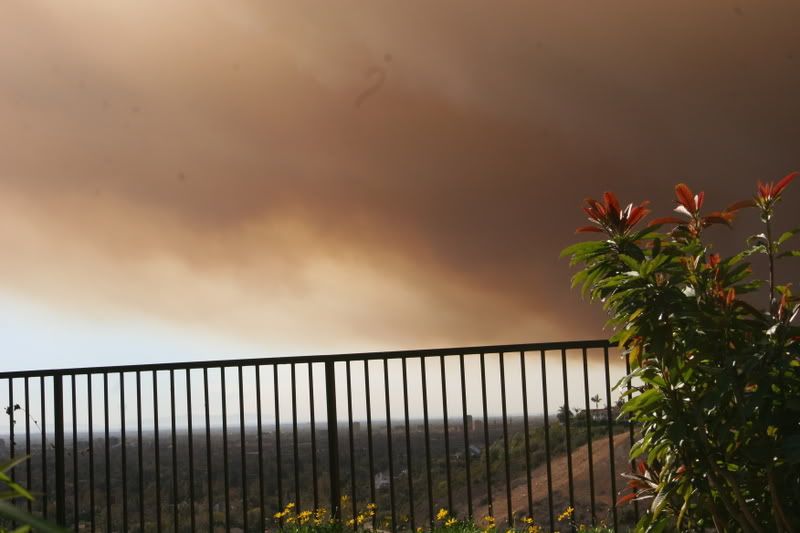 it's cropping my pictures and not showing all of it, probably because of the size, but I think you get the jist of it.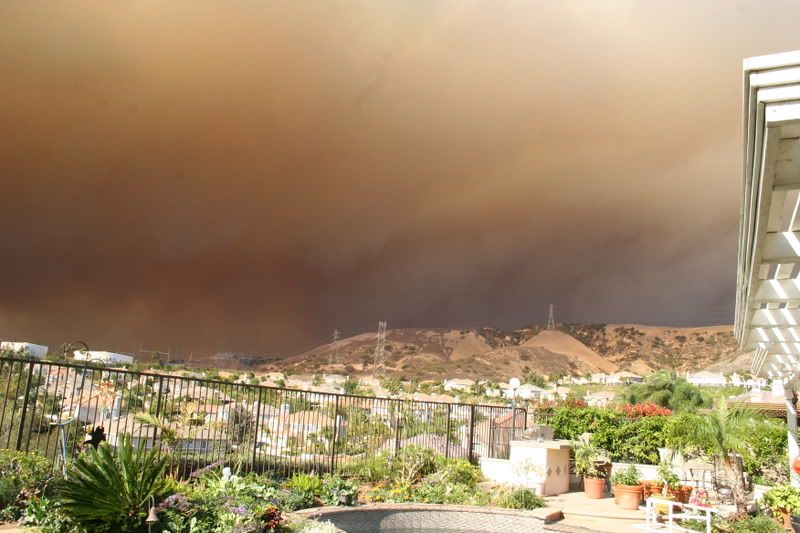 Nothing with flames, I was not one of those that chased the fire. I didn't want to get near it, but just a shot of what we were breathing in. Or, could have been.
Just a few pictures of what the fires were doing to our lungs. This is why we left our house. This is taken from my in laws home. We live 0n the opposite side of the hill from them about 5 miles down the road. It was all surreal.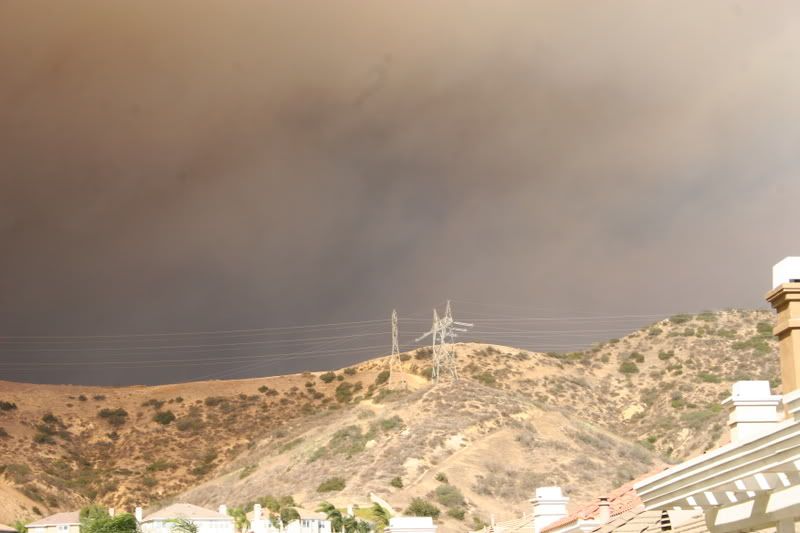 Fires have broken out in our town overnight. Here is our side of the story, or what happened to us. Nothing compared to what others went through for sure. But it was still scary.
I got sick around Friday night, headcold and just miserable.Being six months pregnant, there's not really anything you can take. I tossed and turned all night trying to get some sort of rest. When Saturday came along, I planned on resting ALL DAY LONG!! J needed to get to ice skating lessons and so I told my hubby where he needed to go and what it entailed. We could see outside that there must be some fires, but didn't know quite right where they were. (Little did I know, I was sending my boys, right to the thick of it.) I tell him it's hardly crowded there, that you go right in and just tell them his name. He had called to ask me some of this info. When he (DH) pulls up, he calls me and tells me that our whole town is gathered at the ice skating rink. The fires are on top of the hill and everyone is in the parking lot observing what's happening. He goes inside, watches J's class which is 30 minutes and then gets in the car and drives 40 feet to the gas station that's right there because he needed gas, and calls me.
This is what I hear, " Sorry, I gotta go, I'm at the gas station and there are 50 ft flames. I gotta go get my credit card and get out of here."
Not something you want to tell your almost six months pregnant wife. I start to panic. I wait and wait because I realize that he needs to do his thing and give him some time so he can get out of there to safety. It seems like an eternity. Probably only 5 minutes max and I call back. He is stuck in traffic trying to get out of there (as is the WHOLE hill that lives on it) the mountain is on fire and now the gully to the left of him in on fire as well. 50 foot flames he says. They aren't going anywhere. They are at a stand still. As I tell him and he tells me at the same time, he's going on the other side of the street to get out of there. We are sure others will follow. I get in my car to head where he is at, and if needs be, he will abandon the car, grab our son, and meet me further on down this long, long road where he is stuck. He pulls a car move that only he would do (OK, probably others in his family would too- LOL) and gets out of the majority of it. We are talking on cells phones, I'm BAWLING, he's trying to stay calm, because J is getting pretty scared. He says where he is at, and we realize that we are going to pass each other soon, so I realize they are safe. We decide to meet at home, then rethink that and say his parents. And this point, you realize what it really means to have your family safe and not care about ANYTHING else there is.
I start to head home to grab a few things, in case it does make it to our house, photos, documents, albums etc, and call my good friend to see how her parents are doing as it looks like there is fire as well on there hill.
She says her parents are fine, and it's them that my have to leave soon. The fire has jumped the freeway and is on their side now. I had NO clue. As we talk for about two minutes, I hear four doorbells rings, and she says, hold on someone just rang our doorbell. and then says, "We gotta go, the fires just up our street. " Not something you want to hear a dear friend say. My heart sank again as we hung up. I waited awhile, again probably three minutes tried her cell back it went straight to voicemail and then called the house, she actually picked up!!
"Call me when you get out, so I know you are safe!"
Ok, she said and we hung up. It seemed like forever later, but I did get a call and they were at her grandma's.
There house turned out to be O.K. thanks for neighbors that stayed behind, and while it got close to ours, nothing was touched. We are so thankful to that.
Unfortunately for our friends, where Bradley sat on Friday night for a birthday party, it wasn't the same for them. Their apartments were hit and they lost everything. It was all just so surreal and at this time of year, it makes you sure grateful and thankful for the many things that you DO have. Next week, Thanksgiving, will definitely have a different "feel" to it. Just the fact that I breathe better today, than I did a few days back, makes me appreciate it so much more. Life in and of itself, its just something to be thankful for.